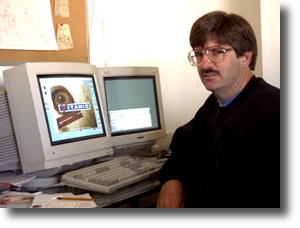 Professionally, I'm a programmer and interactive designer. I've worked on web pages, interactive CD-ROMs, and museum "experiences" over the past fifteen years or so, interspersed with desktop publishing, film production, and various other projects.
I bring to the world of web design not just a design sense resulting from years of working with traditional designers, but also a programmer's perspective, resulting from my work on the technical side, bringing the designers' concepts to life.
I've worked extensively on Macintosh and DOS/Windows machines, and have some experience with Linux. I've worked with Photoshop, Director, PageMaker, and FreeHand. I've created web sites in Dreamweaver, Go Live, and PageMill, and have worked with Front Page. I've had training (and some programming experience) in Perl, Java, C, C++, Lingo, and Visual Basic.
In virtually all of my projects, I've been involved in all phases of the project, from initial content design and layout, to graphic and technical production (programming), quality control, and delivery. That means I'm used to dealing with all sorts of problems and issues-- I'm not one of those guys who just does "my job" and leaves it to the client to fix the little (or not-so-little) problems which invariably crop up.
For most of my career I was based in Los Angeles. I am now living in Tucson, Arizona.
There's more about me on my "personal" website.